The Callidus Work Experience
Callidus is not your ordinary, "run of the mill" engineering firm. We are a team of hardworking, motivated and passionate individuals who take pride in making buildings work, providing great customer service and working together.
At Callidus, we are serious about having fun, and that's why we've engineered a unique work environment that sets us apart from other employers.
Our values permeate into our culture and create an environment characterized by employee events, all-hands meetings, open communications about company plans and performance, and sports tournaments. You can tell by the everyday interaction between colleagues in our newly renovated office space, our employees know how to have fun and enjoy coming to work!
If you're an ambitious, motivated and passionate professional looking to work for a company that thinks outside of the box, feeds on big ideas, and loves to have fun – you sound like a fit for us!!
Paid Time Off
Sick & Care Time: Paid time off to care for yourself and your loved ones.
Bereavement: Time to mourn and support family when a loved one is lost.
Vacation: Start with 2 weeks, plus the days off between Christmas and New Years.

Financial Rewards
Our employees are what make us successful, and that's why you're eligible for profit sharing, starting day one.
Get rewarded for the great work you do with performance bonus possibilities.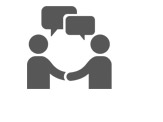 One-on-Ones
Bi-weekly meetings with your supervisor and annual meetings with each Principal establish strong office relationships and give you the opportunity to voice your ideas and concerns.

Benefits
All employees receive benefits including health, dental, and short-term disability.

nerf battles
Whoever said work was "no fun" didn't have nerf guns at the office.

Costco Membership
Receive a free Costco Membership so you can buy everything you need…in bulk!

Professional Development
Complete training courses and attend conventions.

Professional Society Memberships
Join an approved professional society and we'll cover the costs.

Social Events
Our social committee maintains a constant flow of fun throughout the year with sporting events, various celebrations, summer potlucks, a family BBQ, multiple Christmas events and a few other surprises along the way.
And they are events you WANT to attend, not that you feel obligated to attend.

Competitive Wages
We value your work and pay you what you're worth by offering fair and competitive hourly wages that are in line with defined professional guidelines.
START PLANNING
YOUR PROJECT TODAY